Strong Core i7 processor, 16 gigabytes of RAM, 1 terabyte SSD: the Medion Akoya P15651 shows off powerful hardware. And that helps the 15-inch notebook to really speed up, as the test shows.
A current CPU, a lot of RAM and a separate graphics chip make the Medion a really fast notebook. It also offers a lot of SSD storage. It's a shame: the display doesn't reproduce colors as accurately, and the battery life of around five and a half hours should be longer. All in all, the Medion Akoya P15651 is a really good notebook!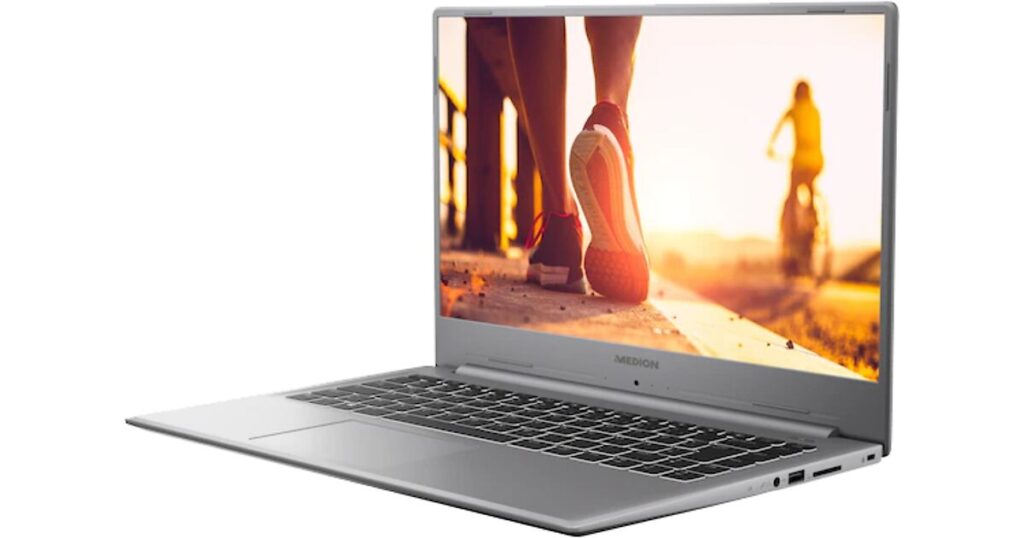 If you want to work properly at home and on the go, you need a decent notebook – ideally a copy with a 15-inch screen, such as the Medion Akoya P15651 that has just been introduced. It's not as puny as a 13-inch ultrabook, and it's not as big a chunk as a 17-inch laptop. The MD62069 equipment variant tested here comes up with a lot of steam, as this test shows.
Medion Akoya P15651 in the test:
Great: Medion has put the Akoya P15651 in a chic and elegant aluminum dress – only the narrow display edges are made of plastic. With its dimensions of 36×24.3 centimeters, it takes up a little less space than a DIN A3 sheet, with a height of 2.3 centimeters it is not exactly filigree, but also not excessively thick. The weight of 1.8 kilograms is enough for a 15-inch notebook
OK, but the power supply increases the total weight by another 510 grams.
Full HD Display
On its display diagonal of exactly 15.6 inches (39.6 centimeters), the Medion shows websites, photos and videos in full HD with 1920×1080 pixels. The image quality is not outstanding, but overall it is okay. It shows colors a bit pale, skin tones slightly falsified, brightness (279 cd / m2) and contrast (915: 1) should be higher. Professional image and video editors are also bothered by the poor color fidelity and the not too lush color space coverage (see test results in detail below).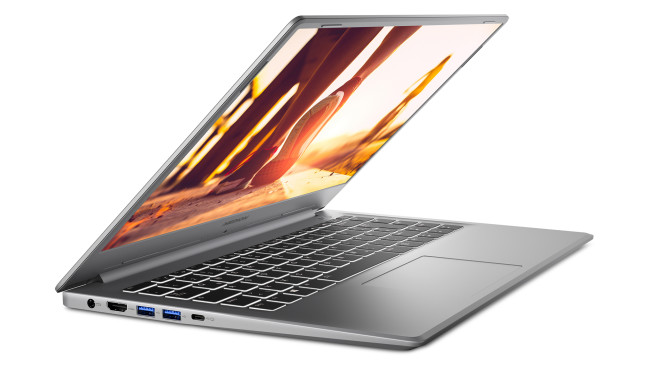 Good keyboard /Touchpad
The keyboard, however, was convincing: It offers a good pressure point and a pleasant typing experience. Great: It can be illuminated on request – ideal for use in poorly lit rooms or in the evening on the terrace. The touchpad too
is good: It is nice and large, easy to use and implements inputs quickly and precisely – even if it gives a little at the bottom.
Core i7 CPU, 16 GB RAM
A high-end CPU from Intel's current is working under the hood Tiger Lake range – the second most powerful specimen. The Core i7-1165G7 has four cores that work with a base clock rate of 2.8 gigahertz; for demanding tasks, individual cores clock with up to 4.7 gigahertz. The processor is supported by a very decent working memory of 16 gigabytes, for Windows 10, programs, documents, photos and videos, the built-in M.2 SSD effectively offers 954 gigabytes of memory and a fast PCI Express 3.0 connection.
Really Nimble Worker
The decent hardware ensured a very high speed in the test. Office tasks were a piece of cake for the Medion, when adding 3D effects to photos on several levels, the testers didn't have to be patient, and that also worked quickly. The Akoya P15651 is not suitable for playing current games like "Cyberpunk 2077". The Medion has a separate graphics chip (GeForce MX450), but it is too weak. Not too demanding games like "Fortnite" can also be played with the Akoya P15651 with reduced settings.
Quiet and Cool
Also good: The Medion didn't break a sweat in the test – it stayed nice and cool on the back of the device even after two hours of demanding work (19.8 degrees difference to the ambient temperature). The built-in ventilation didn't have to convey a lot of heat out of the case with a loud roar – the Medion worked pleasantly quietly in the test.
Battery life okay
A shame: In the test, the Medion Akoya P15651 managed around five and a half hours without a socket. That's okay – nothing more. After all, today there are notebooks such as the Lenovo Yoga 6 that have the puff for almost nine and a half hours of work without stopping at the socket. After all, the Medion's charging time of 2:19 hours is not too long before the battery is full again.
Lots of Connections
On the other hand, the Medion offers many connections: There is a headphone-microphone combo socket for headsets, separate screens can be connected either via HDMI or Displayport (with a USB-C Displayport adapter). There are three USB 3.2 Gen 1 connections for external SSDs and USB sticks – two in the large type A design and one compact type C connection. Medion also has a USB 2.0 port for keyboards, mice or printers.
Conclusion
A current CPU, a lot of RAM and a separate graphics chip make the Medion a really fast notebook. It also offers a lot of SSD storage. A shame: the display does not reproduce colors as precisely and the battery life of around five and a half hours should be longer. All in all, the Medion Akoya P15651, which costs 999 euros, is a really good notebook.