How to free up space on your Apple Watch if it runs out, or worse, if you can no longer install a watchOS update? We tell you everything.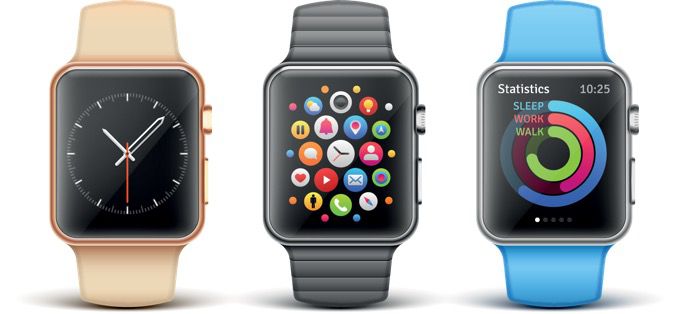 Unlike the iPhone, iPad, or even Macs, the Apple Watch only offers one option for storage volume. Depending on the model, however, this may vary. For example, older Apple Watches like the base model of the Series only have 8 GB of storage where the Series 6 has 32 GB. Which may be too little.
While we don't use our smartwatches the same way we use our smartphones either, it's understandable that we don't need that much storage. That being said, over time applications, photos, music can accumulate, available space can run out.
Check the available space
If you're curious about how much free space your watch still has, it's pretty easy.
Launch the Apple Watch app on your iPhone.
Go to General -> About.
Here you should see how much space is on the watch, how much is available, and which apps or files are taking up a lot of space.
You can also get this information directly from Apple Watch:
Press the Digital Crown.
Launch the Settings application.
Then in General -> Usage.
Free up space
If you think you are using more storage than you want and want to free up, you can choose to delete apps, music or photos, depending on what takes up the most space or what you want. you don't really need to sync with your watch.
Remove apps
Launch the Apple Watch app on your iPhone.
Under "Installed on Apple Watch," view the various apps installed on the watch.
Tap on the app you want to remove.
Disable the option "Show application on Apple Watch"
Note, removing the app from the watch does not remove it from your phone. You can always reinstall it later. Also note, deleting an app, such as a messaging app, does not mean that you will stop receiving notifications from that app. Simply, your interactions with the app on your phone will now be limited to notifications.
Delete Music
Launch the Apple Watch app on your iPhone.
Tap on Music.
Swipe left on the song you want to remove from Apple Watch
You can also turn off "Recent Music"
Desynchronize photos from your iPhone
Launch the Apple Watch app on your iPhone.
Select Photos.
Tap Synchronized Albums and select None.
If you want to sync some photos but limit the number, select Photo limit and choose the maximum number. Currently, it is not possible to select None or 0, the smallest being 25.
Not enough space to install the latest watchOS update?
From time to time you may encounter the problem that you do not have enough free space to install the latest watchOS update. You can follow the steps described above to free up as much storage as possible before proceeding with the installation, but if that doesn't work, here are other solutions.
Restart the watch
Press and hold the power button on your watch.
Swipe to turn it off.
Wait a few seconds for it to turn off.
Press and hold the power button to turn it back on.
Unpair the watch
Launch the Apple Watch app on your iPhone.
Tap on "All Watches" in the upper left corner.
Select the watch you want to unpair.
Tap the "i" button.
Tap on "Unpair watch".
You will then have to redo the whole process to re-pair your watch with your iPhone. When you do, choose the option to set up a new watch. Follow the instructions on pairing and try to install the latest update.
Factory reset
Launch the Apple Watch app on your iPhone.
In General -> Reset
Select "Erase content and settings"
Just like unpairing, you will have to redo the pairing process with your iPhone but this option is the most effective way to resolve the issue of missing free space to install a watchOS update. It's a bit extreme, sure, but it's the one that delivers the best results.
That being said, we recommend that you try the tracks given above before performing a factory reset.