Windows 11 is already one of the most talked about versions of Microsoft's operating system ever. Now, it has been confirmed that Windows 11 will arrive with more management options for multiple monitors, solving some of the problems that continue to make many users despair.
Nowadays it is increasingly common to use multiple monitors in a setup, being one of the best ways to maximize the level of productivity, whether for work or play. However, Windows 10 has some shortcomings that, in certain situations, can be extremely frustrating.
For example, some of the known issues occur when turning on/off a new monitor, resulting in programs crammed onto a single screen, or ending up with "cut" windows when switching monitors. These are well-known Microsoft issues, which over the months receive thousands of complaints from its users.
Clearly, the Mountain View giant heard all these complaints, and quickly worked on a permanent solution to be released in Windows 11.
Windows 11 will Arrive with more Customization Options for those who Use multiple Monitors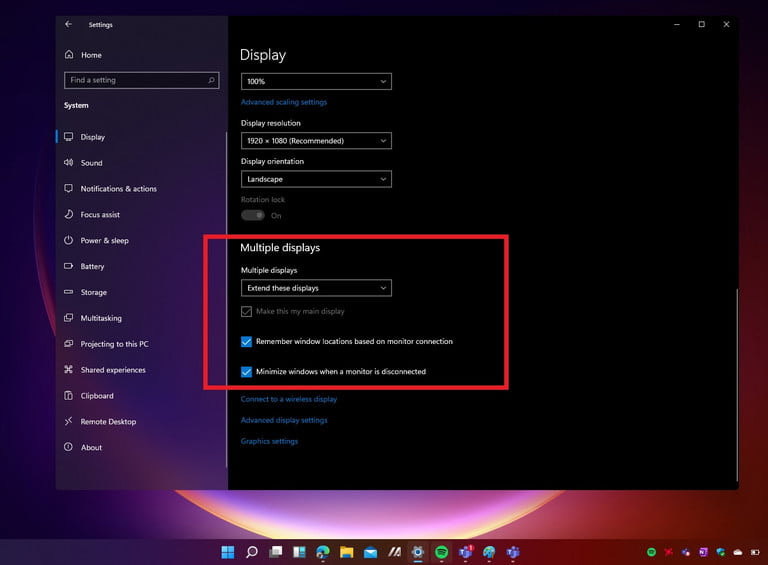 According to images captured in the Windows 11 settings, we see that it will present an option that allows you to "remember" the positions of the programs, associating these positions with the number of monitors connected. That way, when you need to turn off/on a monitor, you'll be assured that your windows will stay tidy.
The second problem is solved through another option, which will order that the applications of a given monitor are automatically minimized, in case it is turned off. This solves the problem of crowded windows whenever a monitor is turned off.
This is just one of many new features that will arrive with the release of Windows 11, one of the most awaited versions of the operating system from Microsoft. Your presentation event is scheduled for next Thursday, June 24th.