Asus has continued to streamline its zenfone lineup there's no zenfone flip this year just one device the zenfone 9 it feels nice not to have to keep track of a dozen different variants like you do with some other manufacturers compact phones are kind of rare these days the trend is toward larger devices with bigger  screens but there's still a market for something that's both easily pocketable and has the cutting edge specs to boot the zenfone 9 is about the same size  as last year's model and even though there's a larger battery capacity and main camera this time around it has the same weight at 169 grams the aluminum frame is now flat to allow more internal room for components and the zenfone 9 has a flat soft back panel rather than curved glass the polymer material was a sort of plastic that feels rubbery like one of those big pink erasers from grade school it's an interesting touch but less elegant especially with the shapes and text printed on it. asus claims this material should be as shatter resistant as plastic but much more scratch resistant plus there's ip68 rated dust and water resistance here and gorilla glass victis protecting the front.
Screen Specs:
The screen is a 5.9 inch amoled with a 1080p resolution and a 120hz refresh rate because of its smaller size it's quite sharp at 445ppi content looks good here if you don't mind a smaller picture there's excellent contrast and support for hdr 10 plus the colors aren't the most accurate by default though you can customize them further through settings there's plenty of brightness here we measured a maximum of 450 nits with a manual slider and this can boost up to 830 nits with the auto brightness mode on there's a 240hz touch sampling rate on this display for extra responsiveness and the 120hz refresh rate is great for smoothing out movement in the interface it can dial down to save energy but it won't go down below 60 hertz.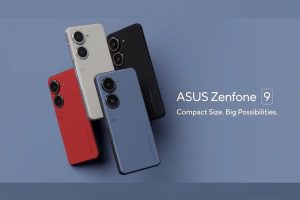 Side-mounted Fingerprint reader/ Power Button/Smart Key:
Unlike the zenfone 8 there's no under display fingerprint reader it's side mounted now and works well but the placement feels a little awkward because the device is so small it does add some extra functionality though you can use it as a smart key and it can access shortcuts not only through a double or long press but by swiping it too.
Headphone Jack and Stereo Speakers Test:
For audio the zenfone 9 has a traditional headphone jack it's nice that they kept it around even though space is at a premium here there's also a pair of stereo speakers with the earpiece acting as the second speaker the setup is tuned by dirac and earned a rating of good on our loudness charts the sound quality is great with clear vocals nice treble and noticeable lows.
Storage Options:
The zenfone 9 comes with 128 or 256 gigs of storage on board that isn't expandable through microsd though.
Android 12 and UI:
The interface of the phone is asus's zenuy9 on top of android 12. it's not too heavy of a skin there's no bloatware or anything and just a few proprietary apps still there is some custom functionality available i've already mentioned this smart key shortcuts but on top of that you can also assign shortcuts to a double tap on the back of the phone need even more shortcuts don't worry there's more space for them through the edge tool panel which opens apps in a pop-up window even though the zenfone 9 is quite small you can easily enter a more compact one-handed mode with a downward swipe near the bottom of the screen and finally there's a game genie which provides access to game related features it's almost as in-depth as on asus rog phones and there are plenty of options here it's also worth mentioning that asus is promising updates to two major android versions and at least two years of security updates.
Snapdragon 8+ Gen 1 Performance:
One of the major upgrades the zenfone 9 brings over last year's model is the chipset the zenfone 8 had a snapdragon 888 but here you get the latest and greatest snapdragon 8 plus gen 1. this means you get a bump in performance compared to the previous model and even flagships from earlier in 2022 benchmark scores are among the highest we've seen for an android phone the thermals though are a mixed bag asus has done quite a bit to keep the heat under control with an advanced passive cooling system that's much larger than what the zenfone 8 had the zenfone 9 actually did a respectable job in our cpu sustained performance test but when it came to the graphics test we did see significant thermal throttling over time.
Battery Endurance and Charging Test:
Like i briefly mentioned earlier the zenfone 9 also has a larger battery capacity than last year at 4 300 milliamp hours as expected battery life has improved and the zenfone 9 scored an endurance rating of 108 hours in our proprietary test an excellent result for a high-end phone of this size the zenfone 9 comes bundled with the same 30 watt charger like last year and the charging speed is decent we were able to charge from zero to 57 percent in half an hour there is no wireless charging though.
Camera Specs:
Now onto the zenfone 9's dual cameras there's a new 50 megapixel main cam with a sony imx 766 sensor advanced phase detection autofocus and six axis gimbal stabilization then there's the 12 megapixel ultra wide cam with autofocus which is the same as last year the gimbal corrects camera shakes similar to ois but here the whole camera module moves and not just the lens and you get three degrees of correction angle as opposed to just one on your average ois system.
Daylight Photo Quality:
During the day photos from the main camera look great colors have plenty of pop without going overboard contrast is high and the dynamic range is very good the level of detail is good but we're not huge fans of the rendition fine details and textures look over processed when pixel peeping portrait shots come out with a slight cropped zoom which makes for a nicer shooting distance and perspective but you lose a bit on sharpness still these look good with proficient subject separation speaking of cropped zoom since there's no telephoto cam you'll be zooming digitally with the main one at two times these don't have quite the detail and sharpness of a dedicated zoom but they're still decent the ultra wide camera is more natural than the main cam in the way it renders detail and is actually one of the better
ultra wides around there are likable colors and the dynamic range is solid plus since the camera has autofocus you can use it to shoot nearby subjects too.
Low-Light Photo Quality:
In low light the zenfone 9 will automatically apply night mode processing it doesn't always kick in but then you can force it on through a toggle in settings it provides a likable exposure with balanced highlights and shadows both with preserved detail there is some added sharpening which can look artificial at times but overall we like this nighttime rendition one thing that's slightly annoying is that each night mode shot takes around 3 seconds to process we've seen much speedier night modes on other phones if you toggle off the night mode you avoid this issue but the images tend to be underexposed with very limited dynamic range it's a similar story with the ultra wide
when it kicks in the auto night mode provides a nice exposure and there's plenty of color and detail from both the shadows and highlights the images are over sharpened and there's low noise notably these take even longer to process than the main cam shots with the night mode off the ultrawide can suffer from similar exposure issues as the main one.
Selfies:
Selfies from the 12 megapixel front-facing cam are pretty great there's excellent detail nicely saturated colors and wide dynamic range backlit scenes are no problem either plus since this camera has autofocus the subject always comes out sharp.
Daylight Video Quality:
The zenfone 9 can record video with this main cam and all the way up to 8k resolution at 24fps the quality of the 8k is nothing special though dtl is about average for this sort of footage in contrast 4k clips from the main cam are quite nice they have a good amount of detail high contrast low noise and vivid colors coupled with eis algorithms the gimbal stabilization is spectacular here smoothing out your walking and pans it all looks rock solid the ultra wide camera is one of the better ones we've seen when it comes to 4k video it's sharp and detailed with plenty of contrast and lively colors plus even though it's missing the gimbal the ultrawide performs quite well when
it comes to stabilization.
Low-light Video Quality:
In low light situations the main camera holds up decently well it's not winning contest for dynamic range or sharpness but areas with more balanced lighting have good detail and colors are generally well preserved the ultrawide camera's clips are softer and noisier but still very much usable in a pinch.
Conclusion:
So that's the Asus Zenfone 9 just like last year it's pretty incredible how they fit all those proper flagship features within this tiny body and this time around you get a better main cam with excellent stabilization improved battery life and the latest chipset the main nitpicks we have are that there's no telephoto cam and no wireless charging either and there are mixed opinions about the new design these aren't exactly deal breakers though and if you're after a cutting edge pocket friendly flagship the zenfone 9 is definitely worth recommending.